Session Privacy
Session Privacy allows you to customise which sessions are visible and accessible to specific users. 
Individual sessions within an agenda have two optional fields "People" and "People Groups" that you can use to decide which of your delegates or groups of delegates will be allowed to view and access the session. If you choose to assign People or Groups to those fields on a session, then that session becomes visible to those people only. Other attendees using your platform will not see that session appear in the Agenda Module list. 
By default, all sessions within an agenda are visible to all users in the app unless they have had people or groups assigned to them via Session Privacy. Leaving the "People" and "People Groups" fields blank will make the session visible to all attendees who have access to the platform and to the Agenda Module containing that session. You can control access to individual modules by setting the visibility options on the module settings page. 
Scenario:
You are organising a 3-day career event, running from Friday, Saturday and Sunday
Delegates pay the entry fees based on the number of days they are attending.
On each day, you are running career advice sessions on different subjects, Medical, Tourism, Legal etc.
You are splitting your event agenda into three different modules based on days. 
Here you will apply the Module Privacy setting to allow only delegates who have paid the relevant entry fees to view and access the Agenda Module.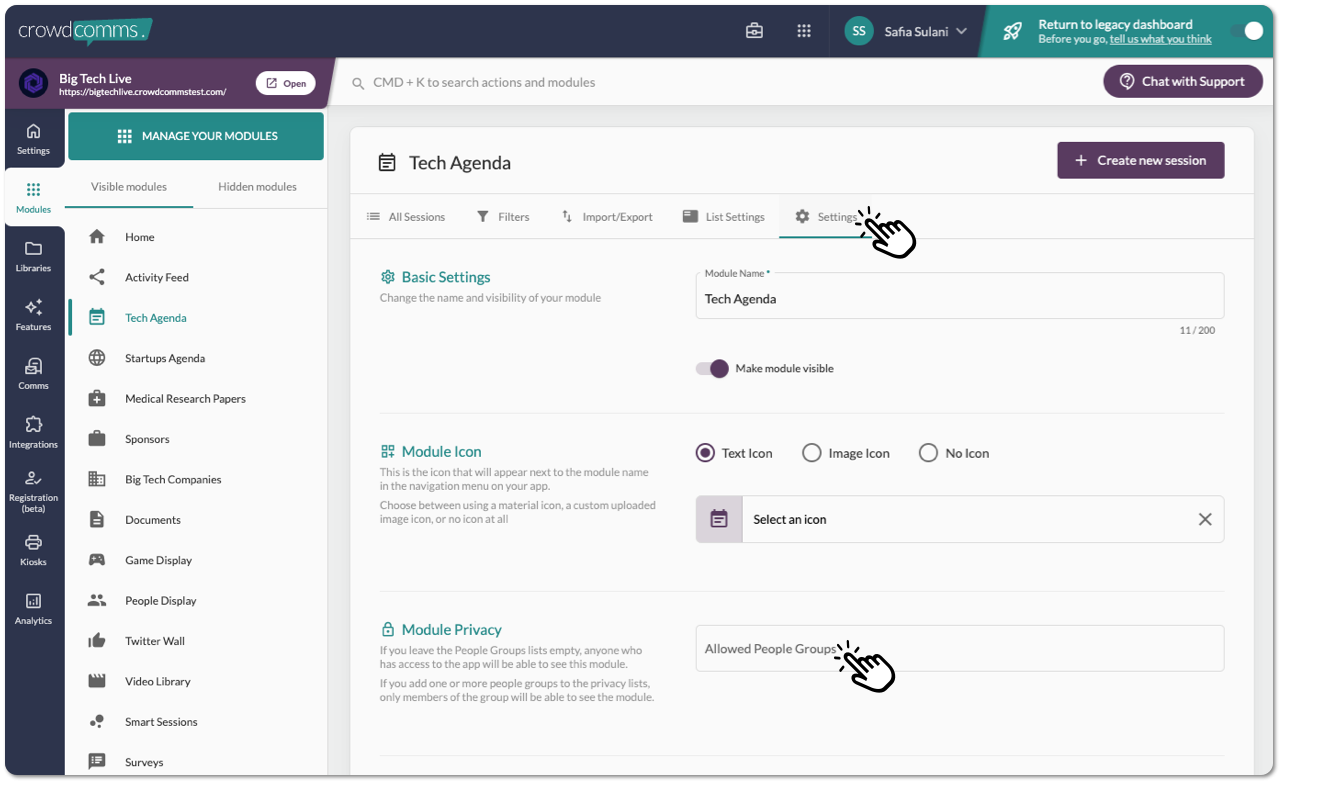 On the Sunday Agenda, you are running a special VIP session for those delegates who have paid to attend all 3 days of the event.
Here you will apply the Session Privacy setting to allow only delegates who have paid the entry fees for the whole 3 days to view and access the VIP session. 

You're free to mix and match visible and hidden sessions within the same Agenda Module, giving you the freedom to design a rich agenda that can incorporate public and private sessions.